Whether you are trying to bring an old cast-iron table saw back to life or you just want to give your modern table saw some TLC, this guide can help you with a different type of table saw care and maintenance for a clean, safe, and attractive power tool.
Especially with older cast-iron models of table saws, your specimen might have some accumulated rust on the body, tabletop, feet, legs, or many other places on your table saw. It's always easier to work on a tool if you disassemble the pieces you'll need to access for cleaning just like the commonly used miter. If you aren't sure how to disassemble your table saw, take a moment to search online for a user manual or tear-down guide. It's often amazing what you'll find on user manual database sites that carry original scanned manuals for long-defunct brands and models.
If you still can't find the instructions for disassembly, do your best to find an online forum or even a tool repair shop to point you in the right direction. Disassembly is a great opportunity to learn about your tool and the inner workings. Aside from the learning experience, this activity offers you a chance to inspect the inside of your table saw for wear and fatigue in the "guts" of the tool. Have a look for rust, dust, and worn-out belts or fasteners under the hood using a circular saw which is the one for you.
Before you have your saw apart, it's always a look idea to prepare a workspace for cleaning and painting. Clear off your workbench or create a painting table with some sawhorses and an old table top. Use a drop sheet to collect dust and stray drops of paint. Get your cleaning supplies, solvents, brushes, and scrapers ready before you crack open the paint can.
Cleaning comes first, so take the time to inspect your parts for rust and discoloration. Start with a hard edge tool like a razor or paint scraper to remove the surface rust. Then come in with your sandblasting or sanding tool to remove the remainder. When working with sanding tools, it's very important to use safety gear for your respiration, hearing, and vision. Don't take any chances with your health and safety in the shop!
After you clean up the rust and grime on your table saw, it's time to start painting. Purchase a high-quality rust paint in your preferred color. If you are the creative type, you ought to consider personalizing your saw with a bold hue or a custom logo for the base of your saw. Don't forget to give your fence assembly some TLC with a good cleaning and fresh coat to match the rest of your table saw. After you finish your table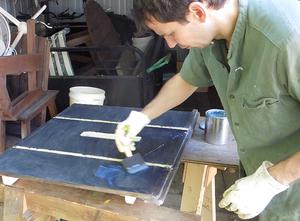 saw painting project, use the opportunity to give the motor a good air blasting to clean the brushes and remove the lifetime of debris you'll find inside.
After everything is clean, painted, and dry, you can begin the reassembly process. Follow the disassembly steps in reverse and take your time not to bend or stress any of the connecting parts and fasteners. Don't rush or you may regret taking this project on in the first place! I hope you enjoy your brand-new paint job on your shiny table saw, and thanks for reading.